Boarding school "Pane Djukić Limar" from Kruševac, Serbia, had joined the company of serbian state institutions which have proper coat of arms. Heraldic artist Mr. Nebojša Dikić, according to the wishes of armiger, has created coat of arms for the boarding school.
Before we proceed to the description of the coat of arms, let us say a few words about armiger.
Boarding school "Pane Djukić Limar" provides accommodation and nourishment for the students from high schools which are not from Kruševac. During the winter and summer holidays, boarding school offers their facilities in the form of hostel.
The coat of arms of boarding school is in accordance with the practice of serbian heraldry.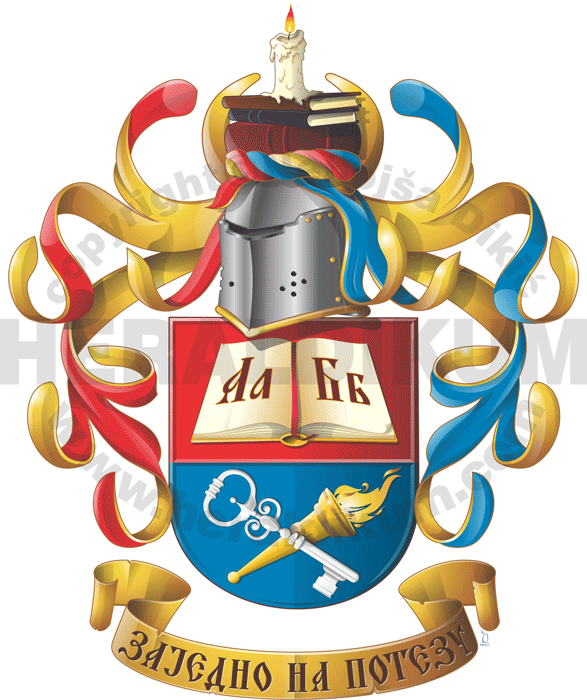 Form of the shield is so called spanish. Shield is divided per fess. In the upper field of the shield there is an open book with pages which are written with serbian alphabet. In the lower field of the shield there is stylized key in saltire with the torch. Crest is represented with the pile of books and candle of top of it. Motto is "Together on the move".
An open book is symbol of education. The key is symbol of knowledge and the torch is symbol of learning and enlightening. Candle is symbol of light, life and spiritualism.
We wish to express special gratitude to Mr. Ivan Vesić, IT administrator from the boarding school, for his unselfish support during the process of creating the coat of arms.
Let the coat of arms be used for many years in accordance with the laws and heraldic rules.