Incorporated into The Center for Research of Orthodox Monarchism (CROM) there is The Board for Heraldic and Genealogical Studies (BHGS). BHGS represents scientific and research body with aims to promote heraldry and genealogy in Serbia.
One of the main goals of BHGS is to connect with organisations, societies and authorities on the serbian heraldic scene. There are few heraldry institutions in Serbia, and because of that BHGS gave itself task of promoting and founding heraldic and genealogical organisations.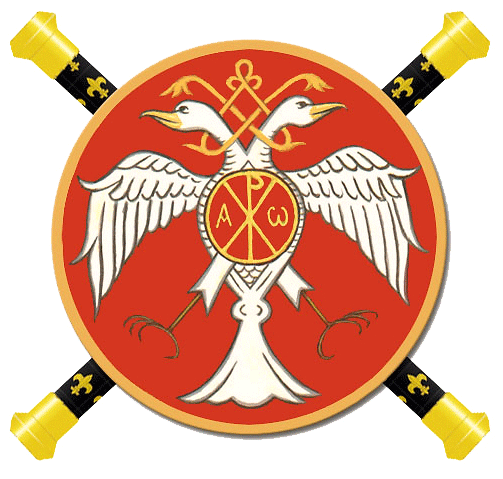 The Board for Heraldic and Genealogical Studies organizes lectures and public forums with the topics from heraldry and genealogy, public performances both in digital and printed media in order to promote heraldry and other similar sciencies. BHGS is also in publishing, preparing and publishing printed versions of books and brochures about heraldry and genealogy. Publishing of magazine "Monarchy" is in perspective together with creating digital contents of coat of arms of famous serbian dynasties and noblemen. Members of BHGS closely cooperate with other heraldry societies and take active role in creating printed and digital magazines such as "Ocilo"  publication of The Society of Serbian Armigers "Miloš Obilić" etc.
BHGS uses the latest technologies in fulfillment of their goals. The whole activity is online. BHGS has its own internet presentation within CROM website, for more go to this link http://www.czipm.org/heraldika.html
CROM and BHGS cares a lot about education and improving of knowledge of their members. In that sense, BHGS invests in education of the present and new members. Implementing new technologies and adoption of new knowledge is also the top priority for BHGS.
Preservation and salvation of oblivion of the Serbian heraldic and genealogical heritage is one of the main goals of CROM and BHGS. In order to accomplish these goals, BHGS manufactures coat of arms for various armigers, for instance church, cities, companies, people etc. There are many members and coworkers within BHGS, let us mention some of them:
Reverend Deacon Hadži Nenad M. Jovanović, heraldist
Dipl. ecc. Nebojša Dikić, heraldic artist
Ing. Srećko Nikitović, heraldic artist
Prof. Ljubomir Lj. Grujić, heraldic artist
Dr Tudor Radu Tiron, heraldist
Dipl. ing. Mirko J. Stojnić, heraldist
Aleksandar Bačko, genealogist
Tereence Sarros, heraldic artist
Rade Pavlović, iconographer
Kimon Alexander Andreou Vergara, heraldic researcher
Sergej Aleksandrovič Mankov, genealogist
Vojin Vuković, woodcutter
These people represent the very top of Serbian and international heraldry and genealogy. Many years of expirience, rich portfolio, membership in renowned heraldic and genealogical societies together with notable participation on the international heraldry scene are part of curriculum vitae of mentioned people.
On the Serbian heraldry scene, BHGS is by far the most productive society and many new armigers are manufactured from the BHGS workshop. There are many serbian armigers, international armigers are not far behind. People of royal blood, commoners, priests, professors etc. the list of BHGS clients is long. BHGS roll of arms grew over the years, for more go to this link http://www.czipm.org/heraldika-08.html
CROM and BHGS are under the high patronage of His Royal Highness Prince Aleksandar Pavlov Karadjordjević and with the blessing of His Eminent Grace Episcope of Australia and New Zealand Lord Irinej.