The Serbian capital Belgrade was a site of an historic event of immense importance in Serbian, as well as in wider perspective, upon the 22. January 2013.
This was the day of the return of earthly remains of His Majesty King Petar II Karadjordjević to his home after 72 years of exile.
At The Belgrade airport, the earthly remains of His Majesty were greeted by royal family, high state and military officials  and representatives of Serbian orthodox church.
The earthly remains of His Majesty are now at the Royal Palace complex "Beli dvor", at The Royal Chapel of Saint Apostle Andrew, available for all people to pay their respects.
After the end of Solemn part of the event, an appropriate reception was held the at The Royal Court.
Mr. Nenad M. Jovanović were among guests as a representative of The Center for Research of Orthodox Monarchism. Center and it's Board for Heraldic and Genealogical Studies gave a modest contribution to this event, upon the invitation of The Office of His Royal Highness Crown Prince Aleksandar. Namely, for the purposes of the Royal Ceremony, BHGS have rendered the Royal Standard of The King of Yugoslavia, with which the coffin of deceased King was draped, as well as his Royal Monogram, with which the vehicle, which transported his remains from Belgrade airport to the Royal Palace was marked.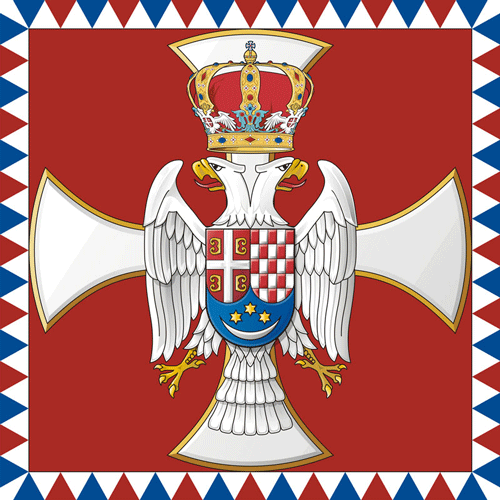 In the execution of this important heraldic and vexilological project contribution was given by Mr. Srećko Nikitović, heraldic artist of BHGS, with the generous help of Mr. Ljubodrag Lj. Grujić, The Heraldic Artist of The Royal House of Serbia,  and Mr. Nenad M. Jovanović, herald of BHGS.